Why the AuBonacci Styler?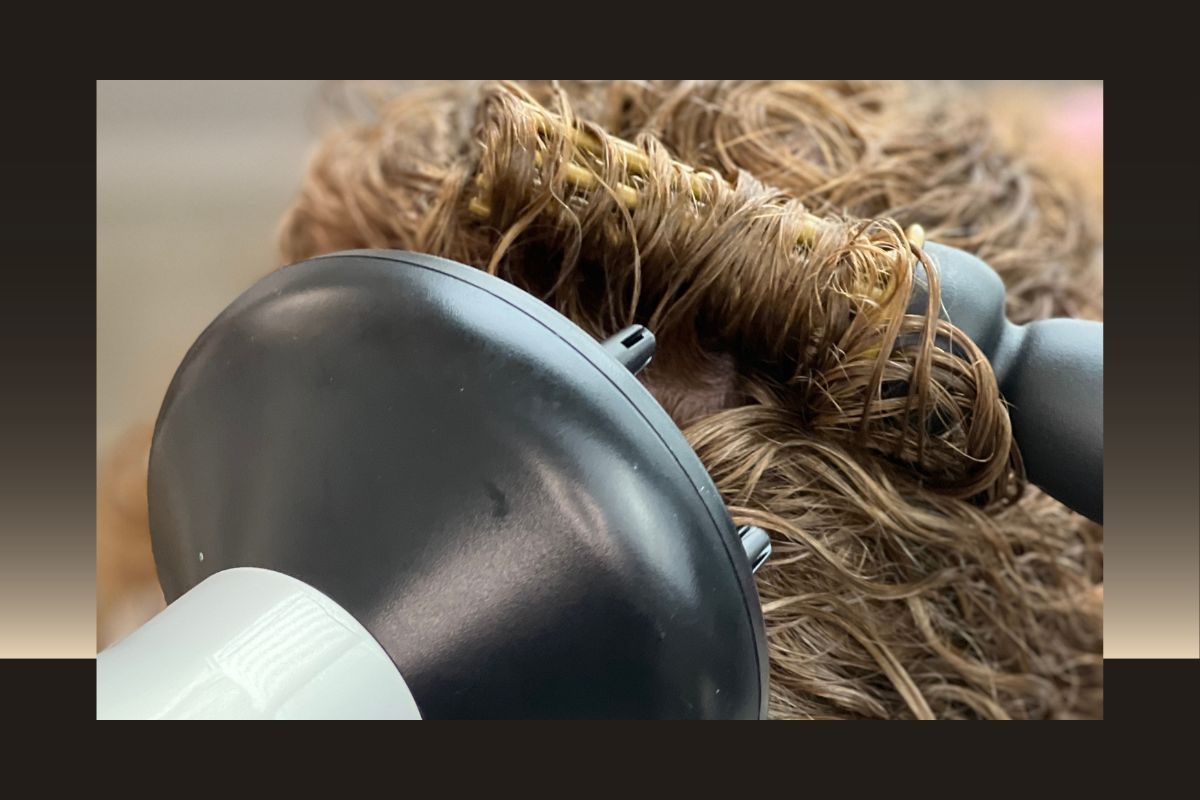 Flat on top, wide to the sides, and no easy way to fix it!  That's why!
It takes time to clip and air dry, and the results aren't always great from clipping (but you don't know that until it's too late).  It also takes too much time to wait until it's all dry and then use a curling iron to spot style, and you don't want the damage of a hot iron!

If your hair is straight, you can use a round brush at the roots and create lift and direction.  But with curly hair, what do you do when you need to do something about your roots which are lying flat or going in bizarre directions?

Regular brushes are ideal for straight hair but believe it or not, curly hair isn't like straight hair.  What?!?  Some curly-haired styling tools out there seem to be better at damaging curls than working with them. How many times have you wound up on the losing end of a hair-pulling fight with a brush with bristles?  If you're blessed with curly hair, then the answer is plenty of times!

It's almost like no curly-haired women are designing these products! Are we that hard to find?

While I'm happy that my curls will always help me stand out, sometimes my blessing makes finding the right solutions harder than it needs to be.

Off-brand brushes clump your curls together, creating a tangled mess that can take hours to fix. If bristles are too rough, your curls could, at best, become brittle, and at worst, lose their natural shape altogether! You know that infuriating moment when you realize you just pulled a perfectly good curl off of your head? You can thank rough bristles for that.  You'll have to completely re-wet to try to get that back.  Sometimes it's a wash day do-over.

Some brushes have features intended to make using them more comfortable, like tiny epoxy balls at the end of their bristles, but those can also end up doing more harm than good. Any sort of cushion around the bristle will make it easier for your curls to get tangled in knots. This counts double if your brush's bristles are too close together. Each curl needs its own space to shine.

Curly hair tends to clog up already temperamental store-bought brushes in about two weeks.  I can do it in one brush-out if I'm working out some tangles!  There is always hair "shedding" as this is just part of natural hair growth cycles.  However, you don't want to pull out any extra, or at a faster rate, by using the wrong styling tool with bristly brushes!  Replacing brushes is pricey and if the tool that's supposed to be protecting your curls is removing them, then something needs to change. Curly hair is unique, and it demands a tool uniquely attuned to its needs. No cookie-cutter solutions, here!

The AuBonacci styler is a curly hair spot-styling tool specifically designed by a woman with curly hair for women with curly hair. Its proprietary design gives you more lift, less frizz, and more control than any other brush currently on the market (and believe me, I've looked). It's straightforward design is deceptively simple.  It is designed to be lightweight, saving your arms and shoulders from any styling fatigue. The pins are designed to be smooth and strong, with just a little give.  It will withstand drops on tile floors; it is designed to last.  All you need is the styler and a blow dryer. You'll be done in minutes!  Sooo much faster than clips and air drying, or finger styling.

What sets the AuBonnaci Styler apart? To prevent pulling and frizzing your curls, the AuBonacci Styler uses twelve unique, smooth "pins", rather than thin, traditional bristles, to style and protect your curls. Instead of simply pulling, the AuBonnaci styler groups your curls directly from the root, so you can lift, direct and create volume—every time!  Slide the pins into the root area, then lift and rotate about a half turn, until there is a little tension and you have created a curve in that section of your hair.  Diffuse, and then slide the AuBonacci Styler out of the curl- don't unwind the curl- just slide the styler out the side.  Use this technique to spot style those pesky root areas that want to plaster straight down on your scalp, or go in directions that make no sense.

What does this all mean?  This means that targeting specific areas to create lift and direction is fast and easy. You'll be able to count on creating more consistent results every time!  You will love your curls even more 😊!

So get rid of those useless off-brand brushes, ditch time-consuming finger styling, don't worry about clip placement and extensive time spent air drying, and treat your hair to the AuBonacci Styler. It's a wonderful addition to your curly hair styling toolbox!

Live Curly!
Lisa